About my works
I am Péter Kondás. My education is Surveyor and cartographer. I was working cartographer and DTP for many years. Besides work my hobby was the 3D graphics. I started the 3D with 3D Studio MAX, when released the MAYA I changed to it. Under Maya I am choose the Mental Ray render engine. I like the Playboy magazine , I liked the beauty pictures of girls, was inspirational to me, I liked to make some similar own pictures in 3d.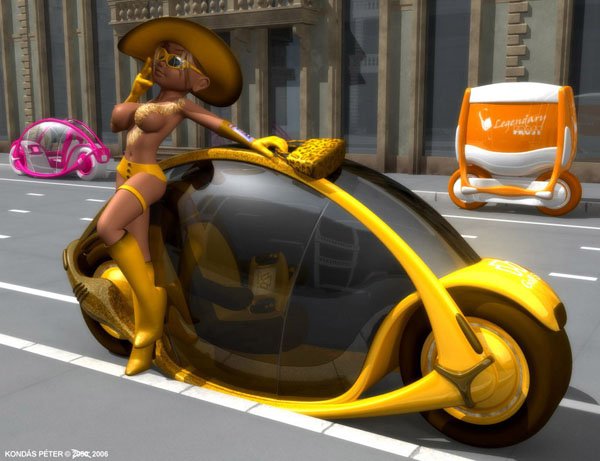 In addition, at this time I have invented several stories, what I wrote for my own comic book... I actually just wrote about the things that happened to them, rather they wrote it than me. Meanwhile my figures were shaped in 3D, but I did not share them with the world. Sometimes I made pictures to competitions, but I did not feel like I could handle 3D.
Deviantart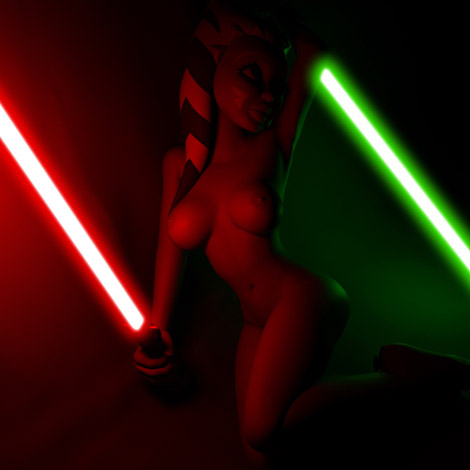 I am a big Star Wars fan. When release the Clone Wars series on the TV I immediately liked few female characters. I decided I will make Ahsoka Tano in 3D. A transformed her from one of my early women modells. I made some dark pictures of her. The only lights was in these pictures the green and red lightsabers. She was naked on these pictures. I made these wallpapers for me. In this set's background there appears few Battle Droid, too. Because they succeeded well I uploaded this set to Deviantart creative site on 2012 april's end. I hope I will make happy few people whos like Ahsoka similar to me. Maybe they will use these wallpapers for theirs desktop. Finally these pictures will be very poular.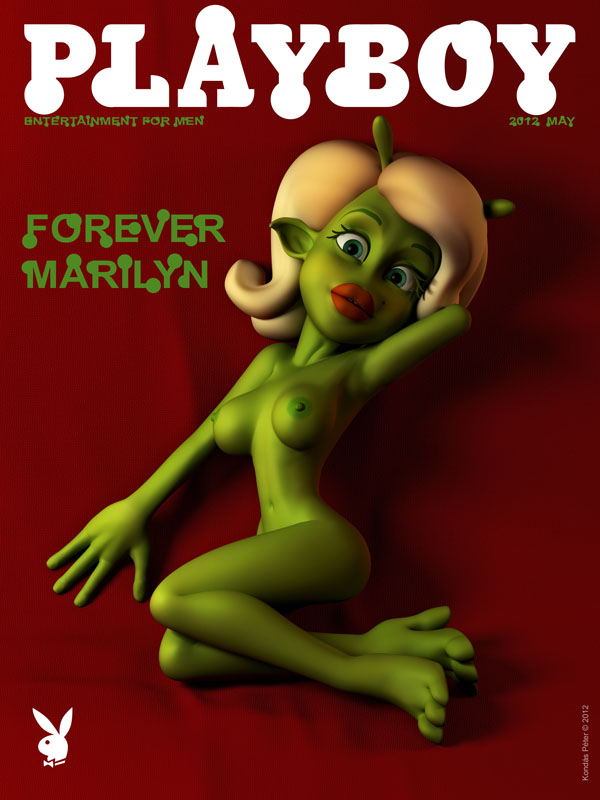 Thereafter I decided I will upload my other early works. Including the Marilyn alien babe from the Planet 51 movie. I made from her few sexy pictures few months early. I uploaded Arcadonna from the Fox Tale movie, I made from her some really cool pictures few years early. A putted Marilyn to the Playboy's cover on the epic pose of Marilyn Monroe beacuse she is Marilyn, too, but she is living on a far Planet. I think she could be az sex symbol as our Marilyn was on our Planet. I love this pose, that is why I made this post for almost every girl. I try to make it for every girl. Additional I would like to make for every girl an own Playboy cover. In May I made a photo set of Ahsoka in a mandalorian ship, where she fights with few battle droid.
On 2012. July Aayla Secura joined for Ahsoka. She is a Jedi knight from the Clone Wars. I made at this time the Ahsoka and Aayla on Tatooine epic picture set. It has very good mood. The blue and orange girl looks good in the sunshine on the desert sand. There are few very good romantic pictures at the end of this set.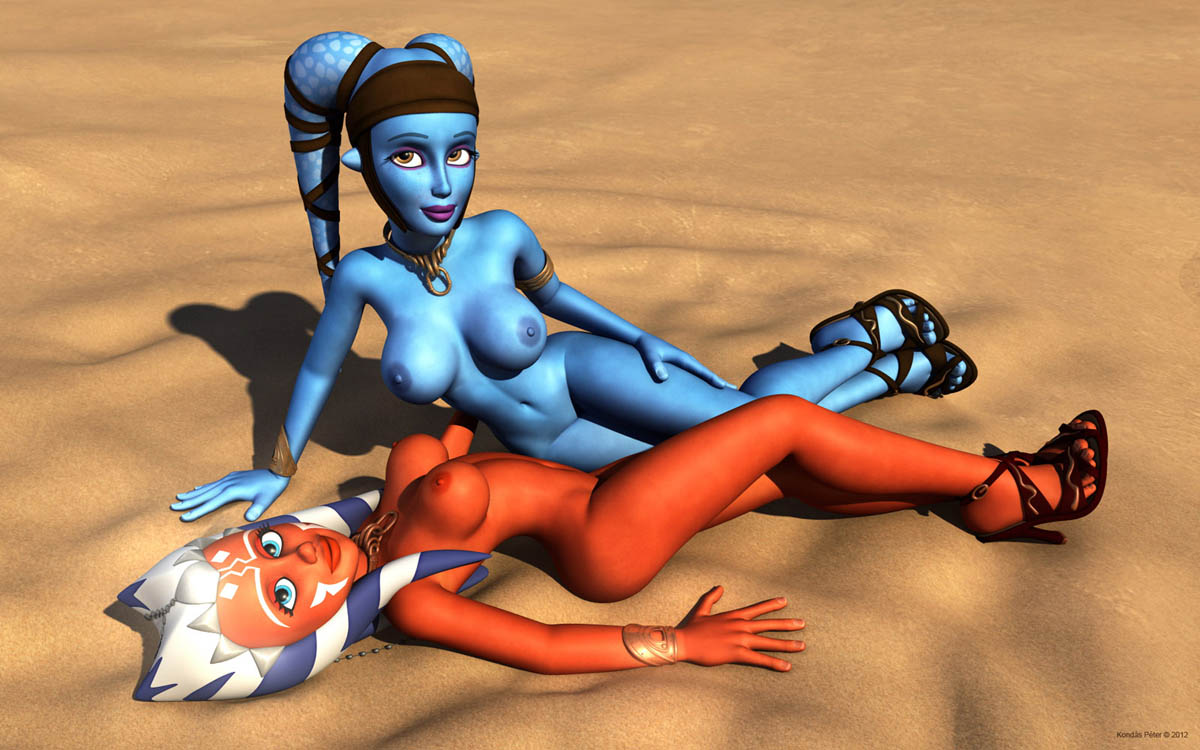 flickr
At that time I faced a serious problem on Daviantart. Since Ahsoka Tano is a teenage girl in the series, they have deleted my pictures and blocked me for a while. After this I could not upload naked and lesbian pictures of her to the Deviantart. After 2012. July I upload of her naked and lesbian pictures only to the flickr photo sharing site. At this time I started to make two versions of certain pictures. A censored and a not-censored picture. I uploaded the not-censored versions to the flickr and I uploaded the censored versions to the Deviantart. First time I blurred the naked body's parts, later I made a clothed version of Ahsoka instead of uncovered breasts or asses. That was good because I did not have to blur my pictures and anyone could look at them. Because most pictures of nudity can only be viewed after registration. In addition, the search engines are rigorously treated with naked images, the clothed versions could appear to everyone in search engines.
Thereafter I putted they in Jabba's palace. The darkened candlelight scene was also good. Here Ahsoka was frozen in a carbon freeze, Aayla escaped her from the carbon freeze in this picture set. In October I made a Halloween-es scene. This was the first one for an occasion. This was followed by a few 6k photo portraits of Ahsoka and Aayla. Because the render was fast, I rendered these from two cameras so the first 4k stereo pictures were made. These 3D pictures were very good, Ahsoka and Aayla was almost comes to life on the monitor.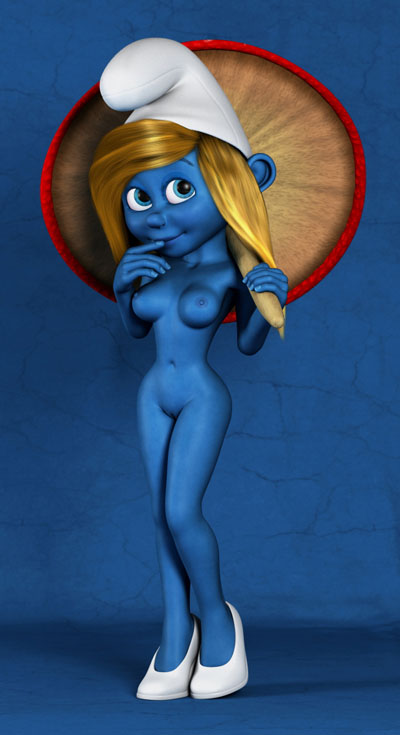 I made a new girl in December: Smurfette. I found her cute always, but I don't thought I will make her next to my girls. On a day I saw a drawing of Smurfette, on that picture Smurfette was more human-like and sexy, this wasn't the ordinary Smurfette. I liked that picture, and I thought I could make a similar Smurfette in 3D. I finished soon her. For the fast render I putted her to an empty blue studio. I was a little afraid of Smurfette. Will my fans love her? Luckily, the people liked Smurfette too. Later I made three more picture set with her.
I putted Ahsoka and Aayla to the Playboy cover with a red velvet in Marilyn pose. In June I made new pictures of Arcadonna. I made 3d stereo pictures of these, too.
In July I chosen again a Playboy-like theme. I made two posters with Ahsoka and Aayla. I putted Ahsoka to Jacqueline Sheen (miss July of 1990.) poster. Aayla came to Natalia Sokolova (miss April of 1999.) poster. Both girls were shooting on a ship, that is why I putted hers to one ship, so this has become another sunshine scene. For some reason, the girls did not even appear in one of these pictures, although I was planning on it, but it was still a very strong image set.
The whole series was completed in September 2013 but I did not publish it because I tried a different kind of lighting model, which seemed to be good at first, but it had a strange mood, so all the images had to be relighting and re-rendered.
I made a new picture set in December about Mairlyn in a room with LCD TV and books.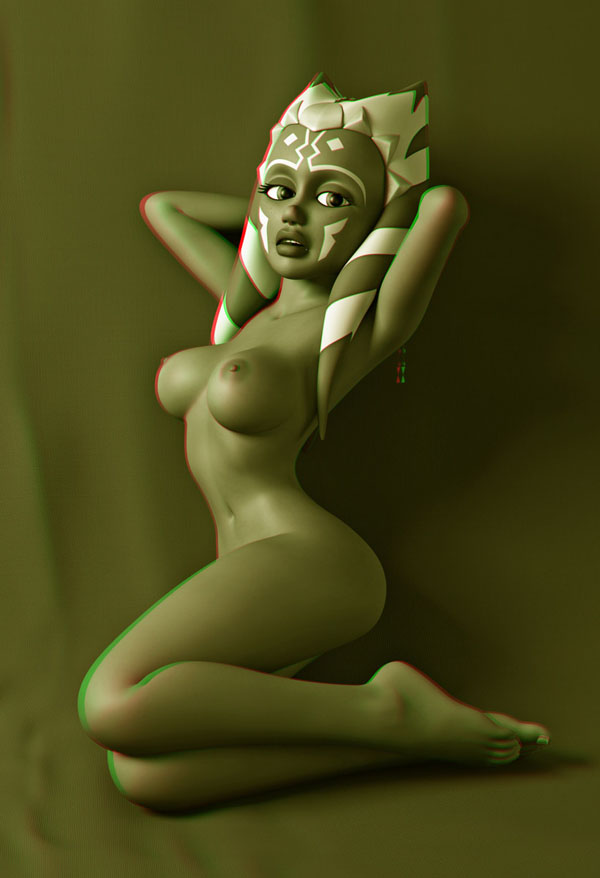 In April 2014, I continued Ahsoka's and Aayla's red velvet picture set and made more 4k stereo images of them. Then I started modeling a Mandalore spaceship corridor for a new character.
In May, approached the 10 millionths views on the flickr. I thought it was such a great number to celebrate with one or two pictures that all of the girls are together. That's why I put all girls in Marilyn's room. So Aayla, Ahsoka, Arcadonna, Marilyn, and Smurfette could appear in one picture. Finally, there were so many opportunities for girls so that over one hundred great pictures were made of them. Then I placed Arcadonna on the Playboy cover in Marilyn's pose.
In July, I made some shanges on the boat scene again. Now the lights were good, but there were errors in the characters I had to correct. I also changed the proportions of the characters, I made smaller heads, hands and feet. This was also necessary because I wanted to start modeling the new character. I wanted to do it for a good character base. Now the ship set what I started one year early has been finalized. And now I've rendered them in 4k.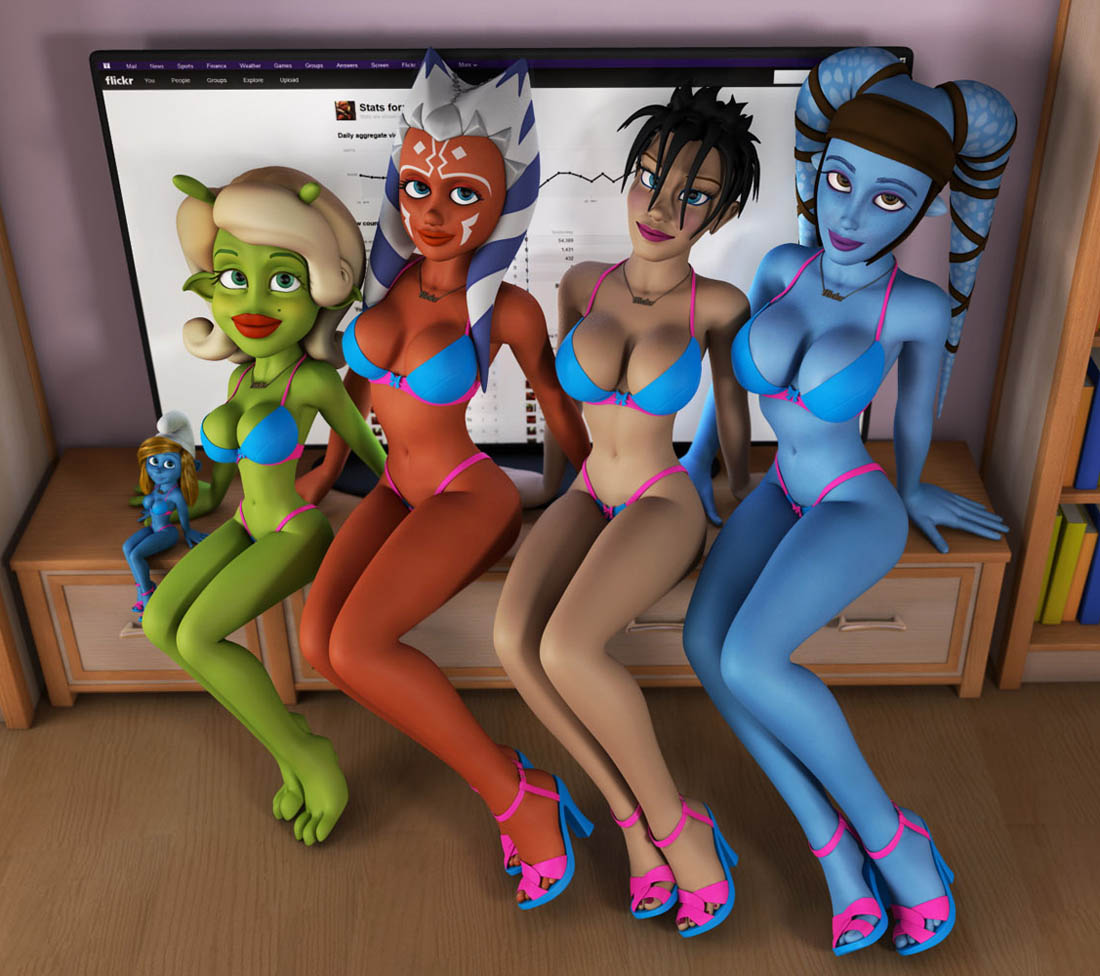 In August, I started doing Riyo Chuchi from the Clone Wars. Meanwhile, I continued the 10 millions set because I had some more ideas, and more dozen new pictures were made. In December, I made a Christmas picture series for Christmas. In this Ahsoka appears on a Playboy cover that I made based on a Morgan Fox's Playboy cover.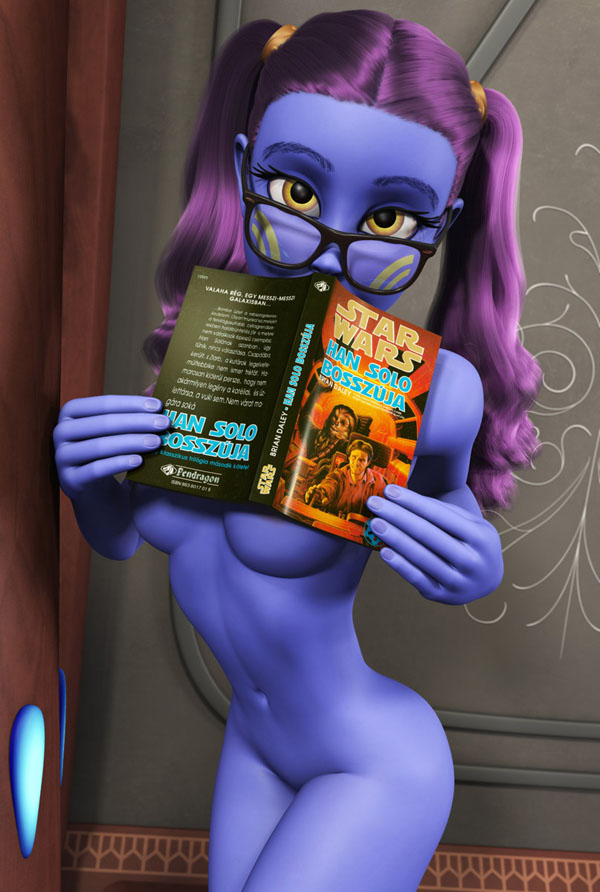 In April 2015, I started to make another series that I was planning on the upcoming May Fourth Star Wars Day. Here Yoda also appeared for a short time. Then in May, after a long break, I finished Riyo and started to set up her scene as well. Here appear a character from Star Wars, R2-D2 and another R2 droid.
The ship series was only shared with the world in June. Almost two years after I started doing it. This set was waiting for the release for the longest time.
In July, I made an older version of Ahsoka Tano, based on the Star Wars Rebels animation series, which was started in that time. This was also good because I could replace the "young" Ahsoka in the Tatooine and Halloween with older ones and now I could upload these nude erotic pictures on the Deviantart. After all, naked pictures of an adult woman are not deleted from that site. When the series started, I was sure that the creators would put Ahsoka in it, my divination will be true.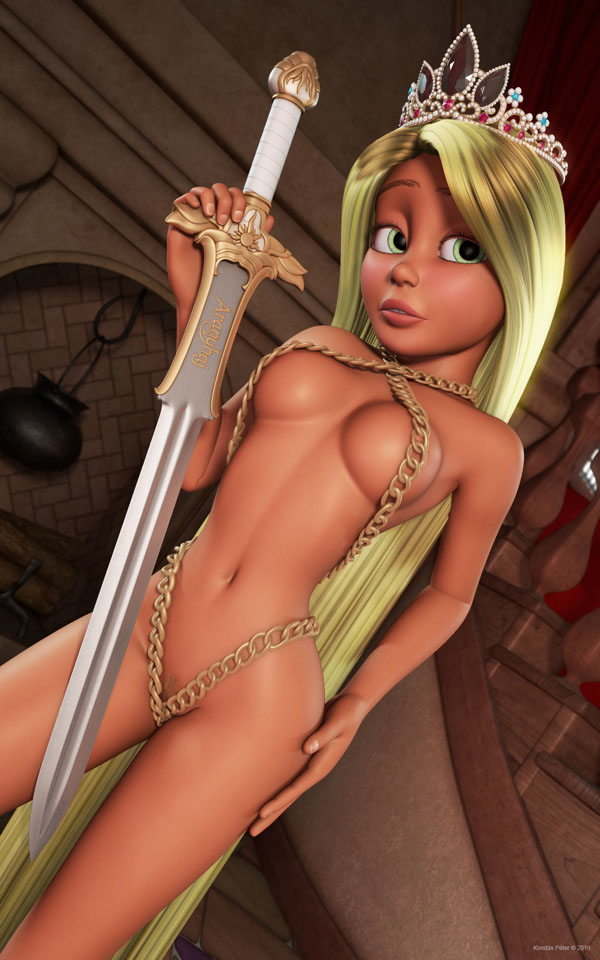 At this time I saw the Tangled movie from Disney after seeing it, it was clear who was the next character! In September, I started modeling Rapunzel. Completed by the end of October. Then the environment was slowly added to her, and in December I started to put her scene together. It also made a bigger series. Though she is alone in the pictures, she has been very sexy and impressive.
In 2016 came a few short series of pictures that I made for a occasion (Soccer Europe cup, Rogue One premiere, Christmas). In May, again, a couple of dozen very sexy images for Star Wars Day (May 4). Even this month, I finished a few pictures that I celebrated the 50 millionth viewing. Again, all of them have taken a girl to make the pictures. This time I put them in a studio to make the render fast. So, for the first time, the eight girls was together, The two Ahsoka, Aayla, Rapunzel, Arcadonna, Marilyn, Riyo and Smurfette. In June, on the occasion of the Soccer Europe Cup, I dressed to soccer dress the two Ahsoka, Aayla, Rapunzel, Arcadonna and Riyo. I'm not a big soccer fun, but the Hungarian team came out to Soccer Europe Cup it was good to cheer for them. So the pictures were made for their respect.
After many many years preparation in October, I started doing my comic book at home: Suttyo and Friends.
In December, I was make some very good images in honor of the premiere the Rogue One movie. This month I did a short little Christmas set.
In March 2017 I made some pictures with Rapunzel with my flickr statistics. In May, I celebrated the 40th birthday of the Star Wars with the four Star Wars girls.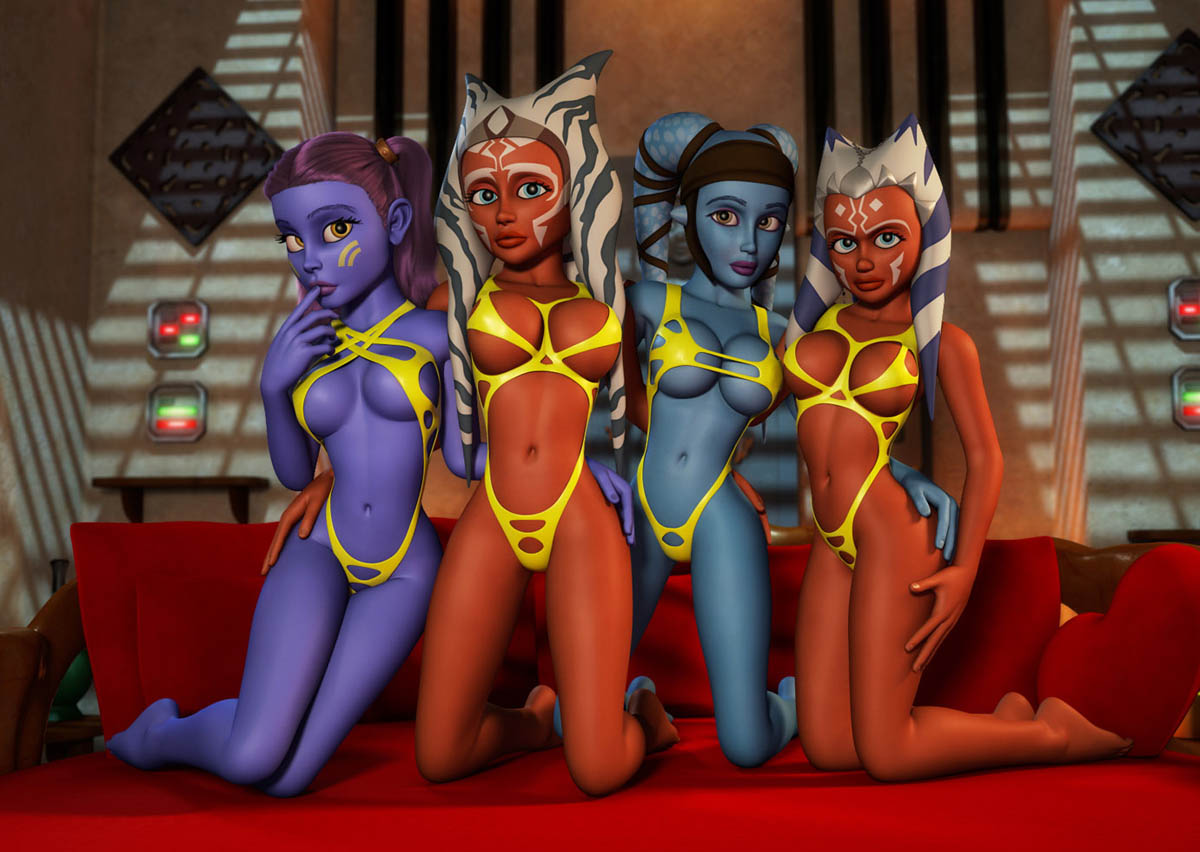 Suttyo and Friends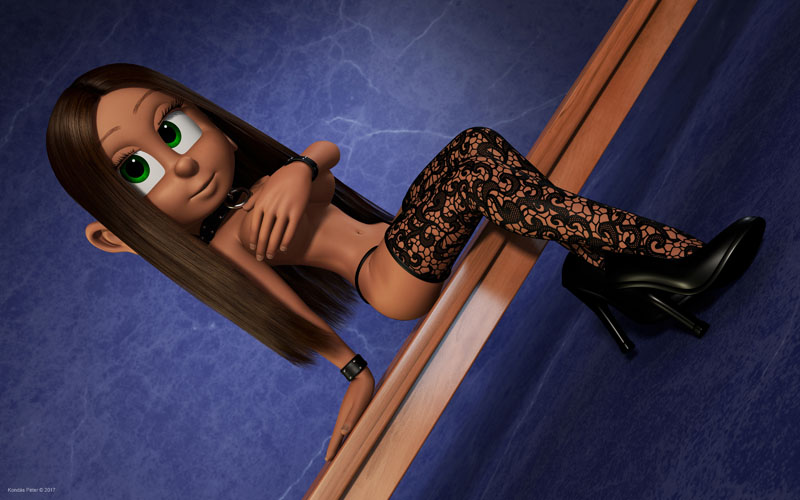 In September I started collecting money on the Internet to make my comic book. At this time the world could recognize my figures, including Vivi. My supporters could get 4k wallpapers from my comic book's figurines. Here, several girls appeared naked, and they became quite popular among my supporters. I did not share them with the public, but only my supporters. But now you can support the compilation of a comic book, so you can still get these photos
I uploaded the first public nude image from Vivi to flickr in October. Along with Vivi, I also uploaded a few girls in my comic book style: Miss President and a Bikini girl (Bernadette) from Suttyo, Andi Gutierrez and Lara Croft. You can buy an exclusive pack of these girls for only 30$. This pack contains more than 190 4K pictures. You can see these pictures on this page.
Patreon
In 2017. October, I registered for the Patreon, where my supporters can see more than 40 new pictures on every month. I've also added few pictures to flickr and Deviantart today, but all my new pictures will only be available for my supporters! On the last four and half year I uploaded more than 4000 pictures to Patreon. These are available only on Patreon! Be my patron to see them!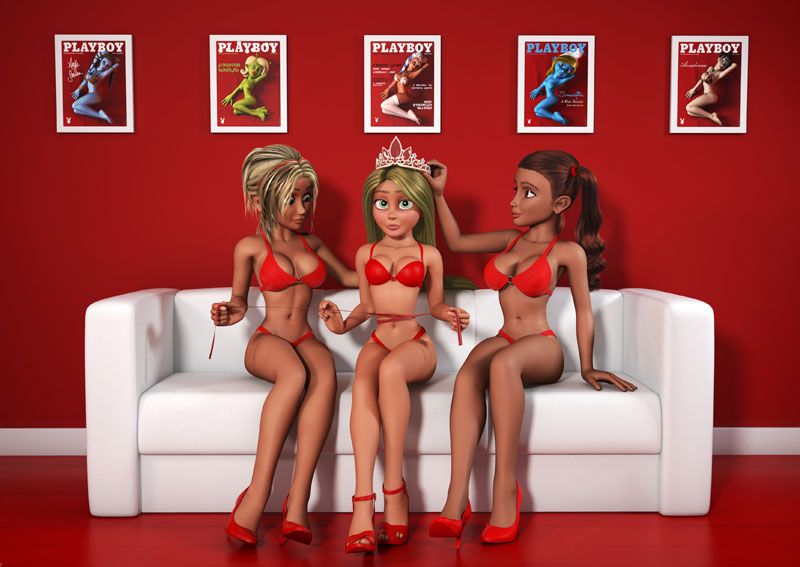 Redshift
In December 2018, another girl from the Star Wars universe was completed: Jyn Erso! She is my favorite character in the live action movies. I put him in a Scarif environment from Rogue One movie. For this scene, I used a new GPU-based render engine (Redshift), this is much faster than the previous one, so all pictures are 4K, but I can make 8K pictures with this engine.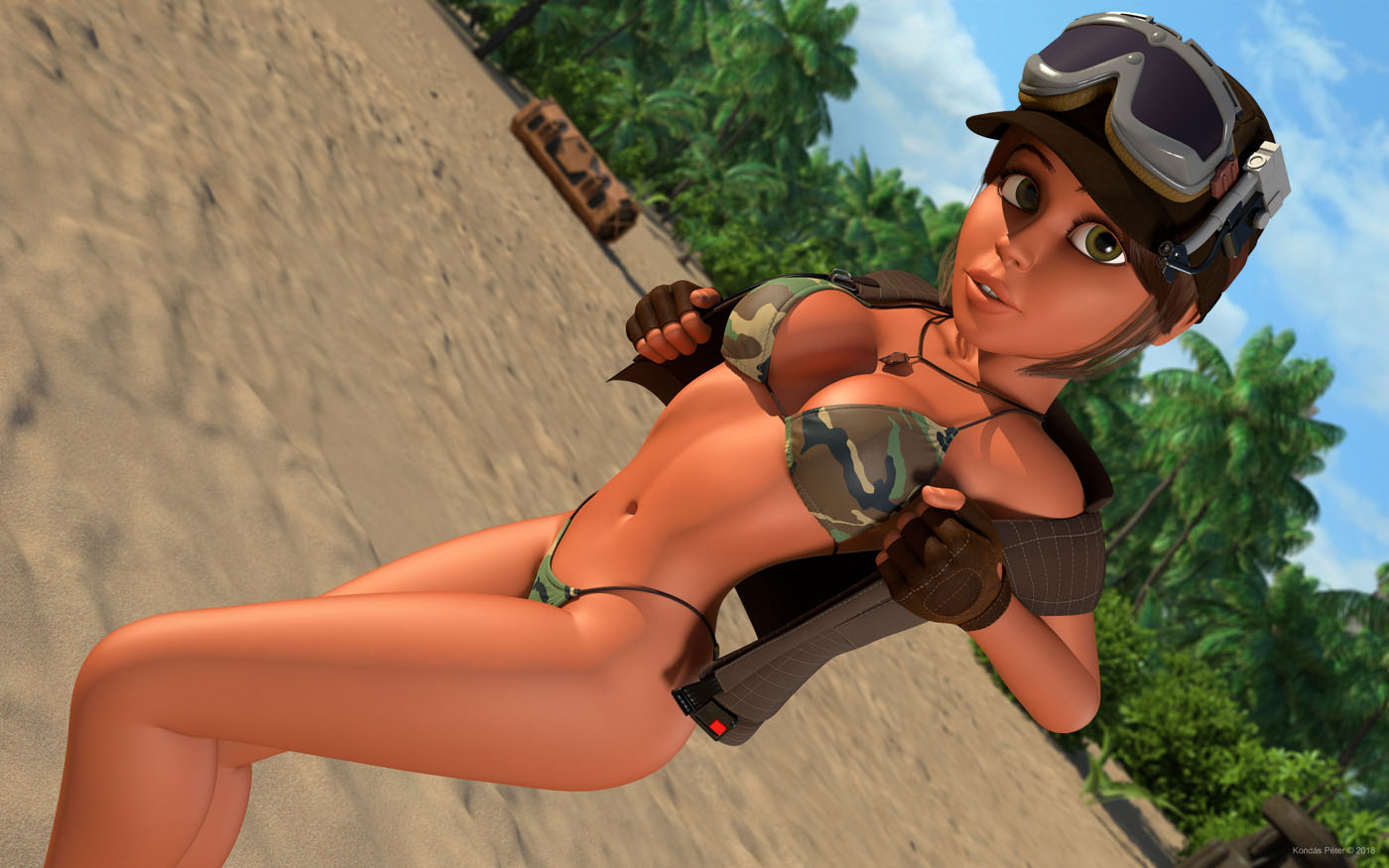 More possibilities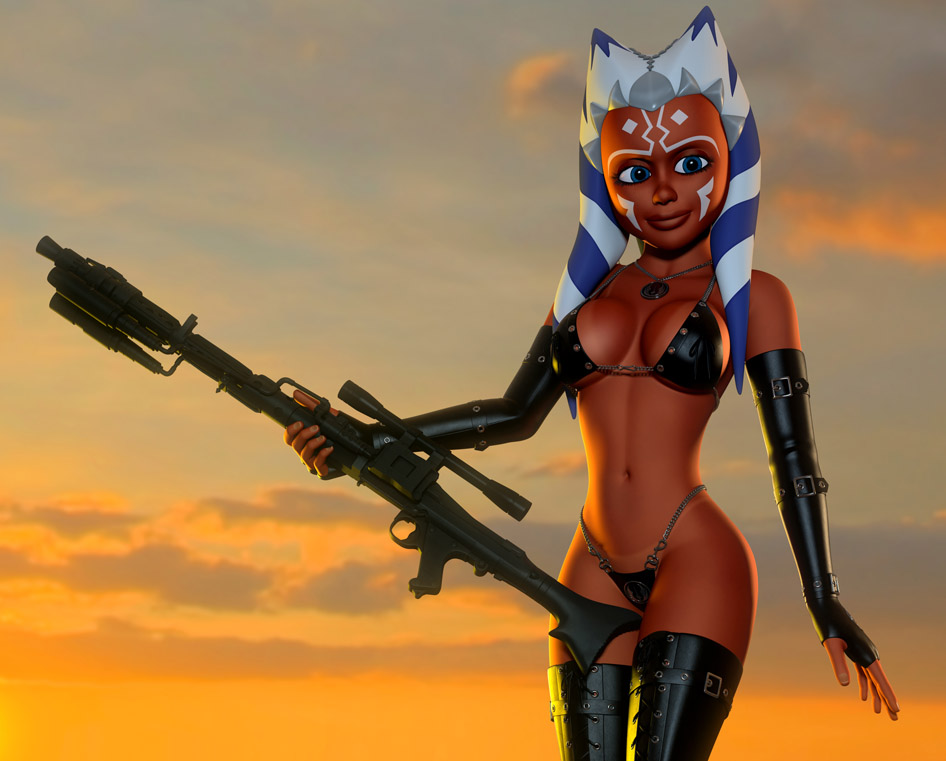 In January 2019, I made a celebartion scene with Smurfette, in which I celebrated that one of her picture on flickr reached the one millionth view. My first idea was to have another smurf girl with big boobs next to Smurfette, but in the end I didn't make another girl.
However, I wanted to take pictures of a smurf girl with big boobs, so in this scene there are also big boobs versions of Smurfette, to the delight of my fans.
In July 2019, a very nice picture set of Ahsoka Tano was completed. Here, I first used a texture for her body with tan lines pattern. Because this scene was rendered fairly quickly by Redshift, I rendered all pictures in 8K resolution.
After these image sequences, the tan lines and big boobs versions will always appear.
In August 2020 I made another Disney princess: Ariel, the little mermaid. But not as a mermaid. I had wanted to model her for a long time, now I have finally succeeded. I always try to put something in the hands of the girls that makes the pictures more exciting. Since the girls had been given weapons more than once before, I now decided to get Ariel something else: a saxophone! I think some of the pictures worked really nicely.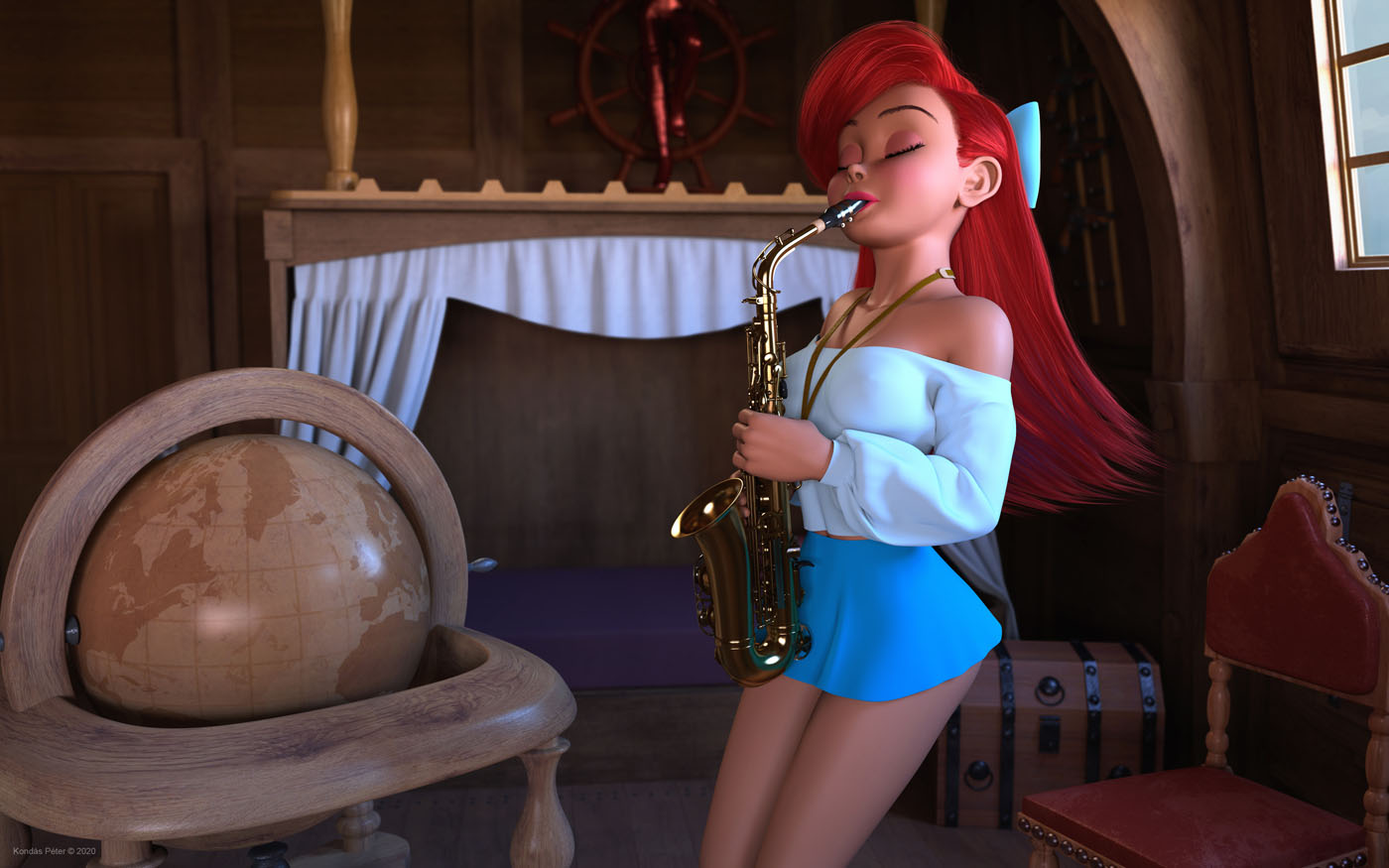 In July 2021, I uploaded the Billiard room scene with Vivi, Samantha and a new glasses girl, Cindy. And in October, another girl appeared on my Patreon site from the Star Wars from the universe: Hera Syndulla.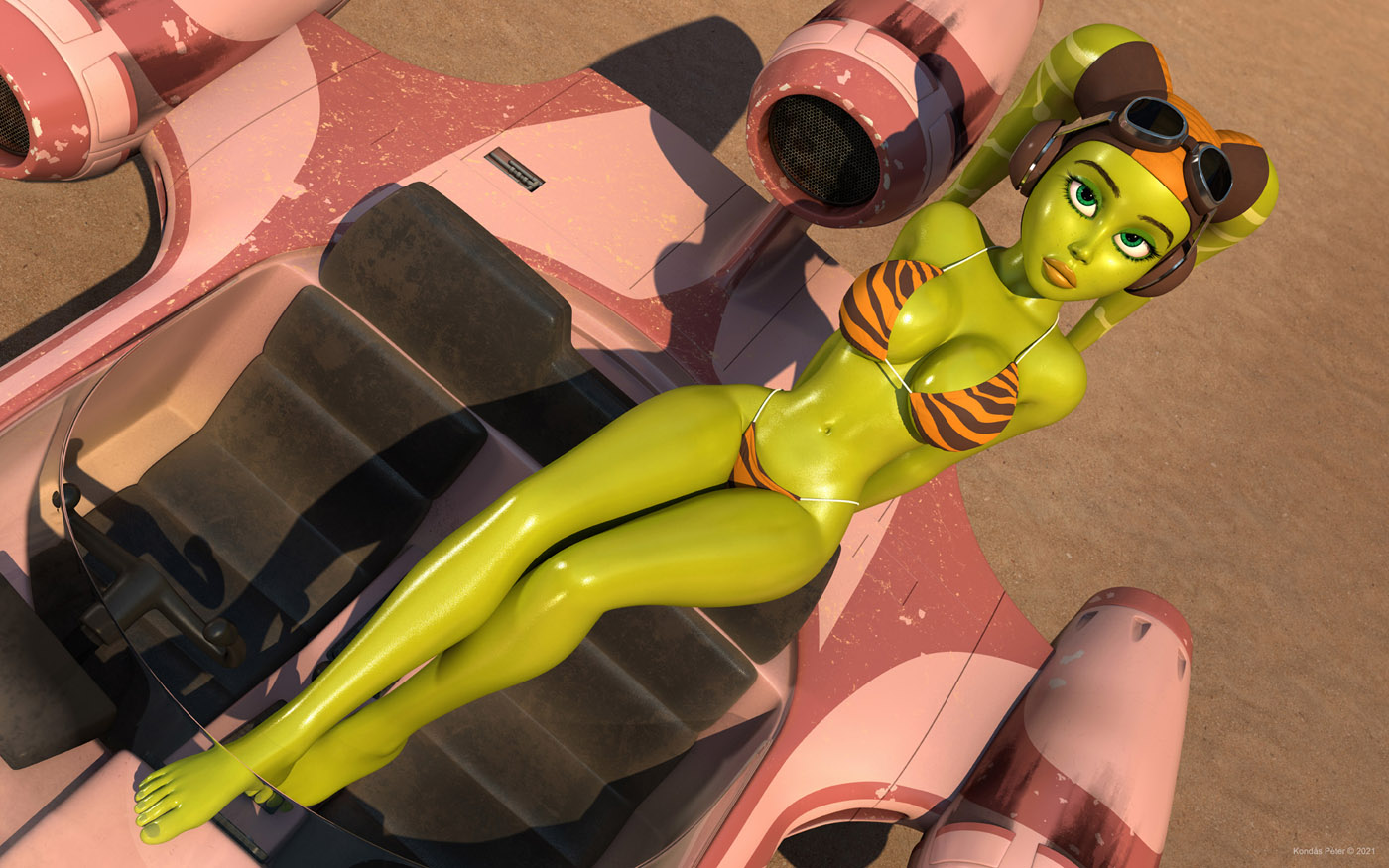 On 2022 April 30th was the 10th anniversary of uploading my first picture to the web. I celebrated this event with a 10K (10000 x 6250 px) image with ten girls on this. There was the first appearance of my new girl. She is Ahsoka's new version: Ahsoka Tano Vision. I made this figure from the Clone Wars series based on Ahsoka's vision. In the 15th episode of Season 3, the older self appeared to her. The Star Wars Rebels series did not yet exist at that time. So the vision looked almost exactly like the young Ahsoka in the series, only with longer lekkus. My version is a little different from the one in the series because I used the Ahsoka lekkus from the Rebels series to pattern of the lekkus.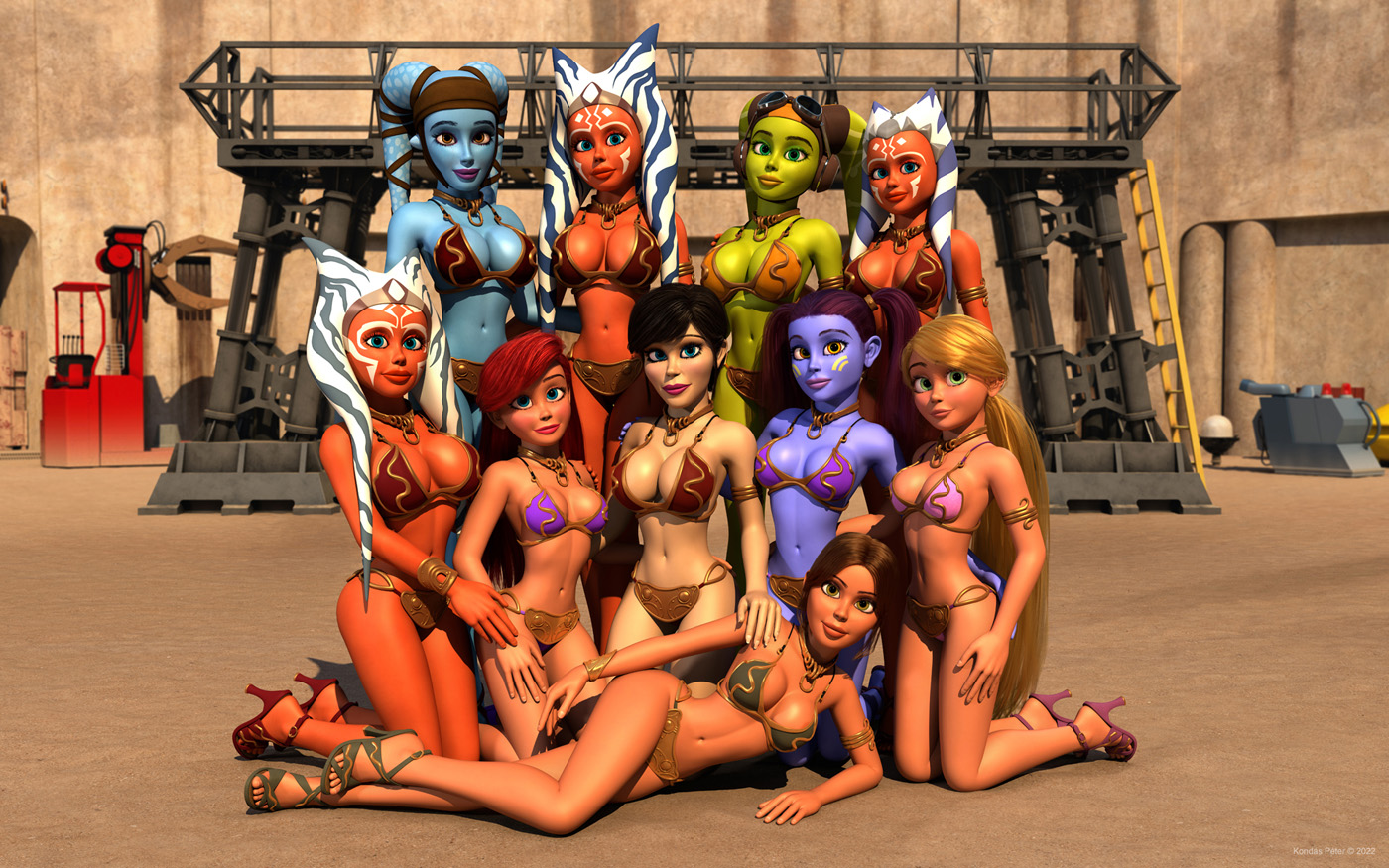 I published a new girl On October 1, 2022 on my Patreon page: Sabine Wren from the Star Wars Rebels series. Together with her, I have already made three girls from the Rebels series. I made sexy pictures of her at the rebel base on Yavin 4.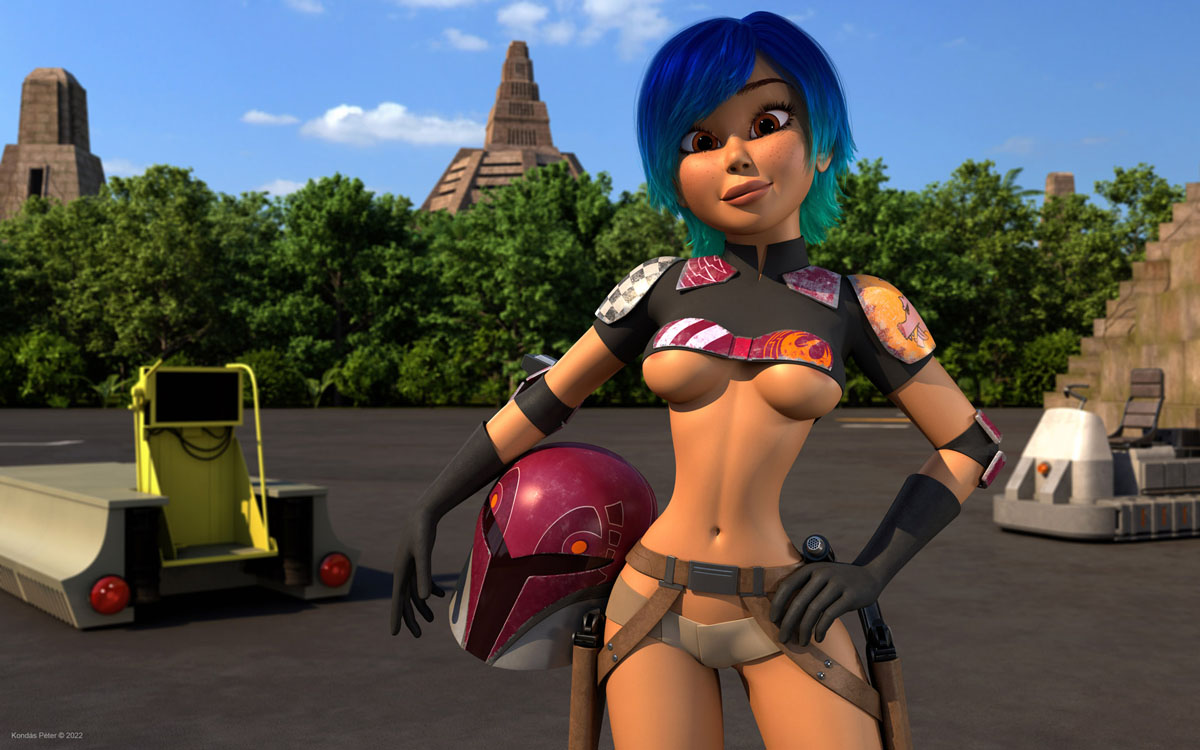 Over the years, I've uploaded more than 1900 images to flickr, I've put it in a ZIP pack and you can buy them only for 20$. You can see all pictures of flickr pack here.
Buy the flickr pack!
After the payment process click on the Return to Merchant button, where you get the ZIP file.